It's been a while since I've posted and some very important and fabulous things have happened since then!
First, we got a new camera! I know next to nothing about photography, but the pics we took with the old one were generally pretty shitty. It was good enough for general touristy stuff, but definitely not for capturing texture and color in food (as evidenced below)- so from here on out, there's no excuse. The pictures should all be gorgeous!
Secondly, Anthony and I spent some time visiting his mom in L.A., and then some time hiking and camping in Yosemite. Yosemite was so, so gorgeous, and gave us an opportunity to use the fabulous new camera. I still wanted to take pictures of food, though.
Toast and mushrooms on the campfire, early in the morning: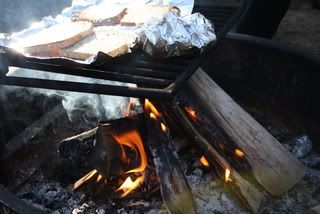 Mushrooms: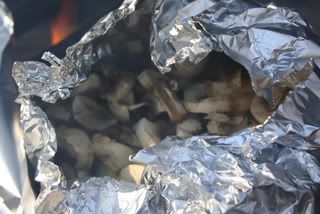 Eggs on our little portable burner:
Toast definitely tastes better when cooked with real fire.
I actually planned on documenting a whole day's worth of camping food. After this hearty breakfast, we hiked about 15 miles. After that we decided instead of camping, we should drive 3 hours to a hotel and order Domino's. We did make s'mores in the microwave, though.